Standard Setting, Research and Resources
The IOPS is an independent, standard-setting body whose mission is to promote good practices in pension supervision and to serve as a world-wide forum for policy dialogue and the exchange of information. The key resource of the IOPS is its very active membership. Research projects are proposed, led and developed by country members and teams – ensuring the great involvement, relevance and commitment to all projects undertaken.
Standard Setting
The IOPS Principles of Private Pension Supervision provide a set of globally accepted principles covering the organisation and activities of pension supervisors and outline 10 main areas for effective pension supervision. The Principles were first approved by the Governing members in 2006 and revised in 2010.



IOPS Principles of Private Pension Supervision (ENG / FR ) (pdf)

Methodology for Review of Supervisory Systems
This assessment framework provides a structured means of assessing the extent to which a pensions supervisory authority complies with the letter and spirit of the Principles.

Methodology for IOPS Principles of Private Pension Supervision (ENG / FR) (pdf)
Guidelines and Good Practices on Pension Supervision
These guidelines and good practices aim to help pension supervisory authorities to identify the areas of weakness to bring the regulation and supervisory regimes and techniques in line with international standards. [View the Guidelines]

Useful links
OECD Global Pension Statistics Project

The Global Pension Statistics Project (GPS) provides a valuable means for measuring and monitoring the pension industry. It allows inter-country comparisons of current statistics and indicators on key aspects of retirement systems across OECD and non-OECD countries.
This annual report, which now covers 87 countries, gives an overview of private pension systems worldwide and outlines latest developments.
The 2018 edition of the OECD Pensions Outlook examines how pension systems are adapting to improve retirement outcomes. It focuses on designing funded pensions and assesses how different pension arrangements can be combined taking into account various policy objectives and risks involved in saving for retirement.
Recent Articles and Documentation of Interest
Cambridge Journal of Pension Economics and Finance
Since its founding in 2001, the Journal of Pension Economics and Finance has served as the only peer-reviewed journal focusing on pension economics and finance issues.

Through its association with the OECD and the International Organisation of Pension Supervisors (IOPS), this journal has become an influential outlet for research on pension issues and is widely circulated to the top academic departments as well as leading regulators, policymakers and international organisations.
Members can access JPEF issues online through this link.
Database of complementary and private pensions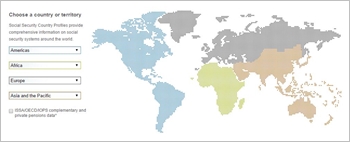 The ISSA/OECD/IOPS Complementary and Private Pensions Database is publicly available on the ISSA website.
| | |
| --- | --- |
| © 2019 International Organisation of Pension Supervisors | |